Solitaire is a game that can be played alone using cards. Because it is played alone, there is no need to worry about gambling or betting elements in the salitaire game. Although many people have tried other games, but the simple game of Solitaire that sharpens the brain will always make us curious to complete the mission of the game.
Playing games is not only entertainment or to fill spare time, but also can improve concentration skills, think analytically, and train short-term memory.
Solitaire games can make anyone who plays it curious to keep repeating the game so that it requires patience when playing.
This game, which is familiar to computer users, is currently not only played through computer devices. This type of solitaire game, can now be played using mobile devices easily.
Although played through mobile devices, this game does not need to download and install the application first. Solitaire games can be played directly through the https://www.solitaire.org/ using only the browser on the mobile phone that is used.
On the Solitaire site, you can also find other types of card games such as spider, golf, freecell, mahjong, and anything you like.
The best thing about the Solitaire.org site is that it's ad-free and doesn't offer any in-app purchases. So, we can play all the levels in the game available on Solitaire.org as long as we are able to complete the task at hand. There are no items to buy like in today's games.
Sharpen Intelligence With Games
Some people need full concentration when playing. Especially when playing games that require high thinking processes, completing game missions with the right strategy.
Although it looks simple, in fact brain teasers like Solitaire also require high concentration power. Even though it's only arranging cards, but to finish the game also requires strategy.
Games Solitaire is now not just limited to classic games and Spider Solitaire. However, there are several game options available that can make users more free to choose.
What I like the most is that almost all of these new games still rely on the simplicity of the game instructions, but still sharpen the brain.
Some Games in Solitaire to Sharpen The Brain
Spider
Spider Solitaire is a simple game that is played by arranging or sorting cards, starting from the card with the largest value, namely King to the smallest, namely A. This is still very popular today.
Actually this game is very easy to play, both by beginners and advanced. If you have ever played or are familiar with playing cards or playing cards, then you will be familiar with this spider solitaire game.
The player's task is only to arrange cards from K, Q, J, 10, 9, 8, 7, 6, 5, 4, 3, 2, A. If you can arrange them well, you will finish this game well.
Mahjong
How to play the game Mahjong Solitaire is actually quite easy. For those who have never played this Mahjong Solitaire game, players must first choose various patterns.
The pattern is composed of four layers and above. In the game, in addition to requiring foresight and patience, strategy is also very important so that each tile can be paired with each other so that nothing is left.
By setting the right strategy, players will get a faster time to complete the game. The more tiles that players find and match in a short time, the greater the best time they get.
China Temple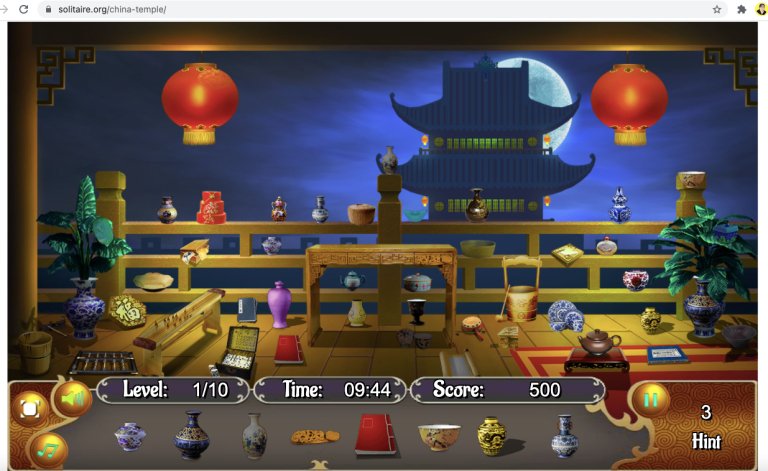 In the China Temple game, we must be able to find hidden objects in the game.
Later we just click the object according to the instructions. This type of game looking for objects is fun because it requires our eyes to be observant so we can find all the hidden objects.
There are 10 levels of the game and each level has a challenge and a short time duration.
It's really fun not the current game development. We don't have to look for heavy games. In playing games, we also have to learn game strategy analysis in order to complete each challenge.
Conclusion
For me playing this game will be fun. Although in some cases the game is difficult. However, this is a challenge in itself.
Solitaire has the perfect mix of challenge and entertainment that allows everyone to keep their brain stimulated and healthy.